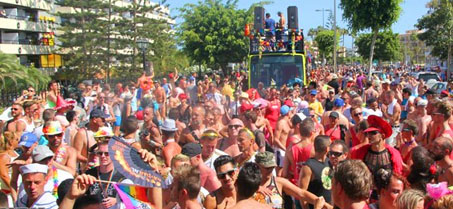 Here in Playa del Inglés we enjoy an unsurpassed free gay community, totally unlike anything else in the world.
This amount of gay bars and venues grouped together in one place you won´t find anywhere else. 
The annual Gay Pride celebrations that are attended by up to 250.000 gay and gay friendly people. 
The Yumbo Center is Playa del Ingés`s front room. Here you can participate in all the festivities around the year, the largest being Maspalomas Gay Pride and Carnaval. Many other events like German Carneval, New Years Eve and fringe gatherings are many and well attended.
FRDK Salon is proud to have done the hair and makeup for The Maspalomas Gay Pride Shows for many years now. Last year we were a total of 6 volunteers who together did 245 hours of contribution work for Gay Pride. We do all the hair and makeup for the dancers and the stars and presenters that choose to use our service. We are active members of the G.L.A.Y. association (Gay Lesbian Association of Yumbo) and have received prizes and recognitions for our contributions for Gay Friendly Business. 
The 2014 Gay Pride volunteers in the hair and makeup department, brought to you by FRDK Hair Salon 
FRDK Hair Salon you will always be welcomed respectfully on you own account, no matter who you are and we are always happy to share our very wide know how in the many branches of work and services we supply.
We cater daily for cross gender people and show people too, we are qualified in both make up and hair to offer any style you might be looking for.  
The L.G.B.T. community on the island is incredible and it is growing by the minute!