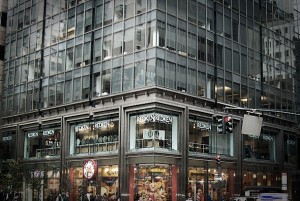 Redken comes from New York and has it´s head quarters in 5th Avenue downtown Manhattan. Redken was founded in 1960 by Paula Kent a then aspiring actress and her hairdresser, Jheri Redding who knew bio chemistry. Paula had typical fine hair, limp and thin, no body, no hold and was irritated by everything then on the market.
On day at the hairdressers they went together to make what would be the start of a great enterprise. Jheri had worked with proteins and knew that if he mixed it into the shampoo, it would give what limp, fine hair needed. He had to control the PH as not to irritate the skin.
The first shampoo had no color, it didn't smell good -but it worked!
They went together to get the patent, this protein has been patented since and is exclusive to Redken.
This protein is also exactly what damaged hair needs.
This is the jewel of the famely.
Redken EXTREME for chemically damages hair:
Shampoo, conditioner and deep treatment.
Anti snap leave in and Cat 5 minute protein replenishing program.
The more you use the more your hair grows. Not from the skald but you will see the added length.
Anybody with more that 5 cm of hair should have a great shampoo that respects you natural PH and that does something for your hair, a great conditioner that balances you hairs needs. You should use a serum, maybe Argan 6 to seal all that goodness into your hair and and give you unbelievable shine. Once a week or every other, you should deep treat your hair to fill your hair up with nutrition lost since last you did it. This way your hair will always be like when you came from the salon. 
BodyFull for fine hair
This series gives you real volume with the use of carbohydrates, yes sugar! It grips onto your hair and swells the diameter of your hair making it apear fuller. Volume Intensifier is great for root lift and
Shampoo and conditioner, Volume Amplifier for extra root lift and Instant Bodyfier for pure volumizing carbohydrates.
For really fin and limp hair, its a good idea to combine elements from both Extreme and BodyFull series to get the most out of your hair!
Diamond Oil for dry, grey or dull hair
Diamond oils was invented to full penetrate hair with these three natural oils, Camomile, Apricot and Coriander oil. It´s called "Shatterproof Shine" and delivered that.
Diamond Oil can be applied in several ways: before you go to bed the day before you wash your hair, the oil penetrates dying the night. Or just a few drop after washing your hair, as a serum to protect and replenish. Or just add to you shampoo and or conditioner.
The gold oil is for finer hair and the black one is for more dense hair. 
AllSoft for naturally dry hair
AllSoft just works again that daily wear and tear of you lovely locks and is not to heavy. 
Heavy Creme for you once a week treatment, Supple Touch- a great leave in conditioning alternative. 
Argan 6 natural Maroccan Argan Oil with a great smell we recommend for the whole family
.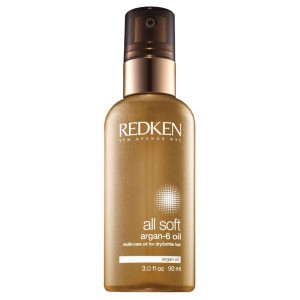 Wash you children's hair with the best products, many baby shampoos are high on PH leaving the hair dry and hard to brush. Use good Redken products and avoid all those tears, just don´t let it get into there eyes! PS: a little oil will make it really hard for those head lice at school to choose your kid to nest in. 😉
Blond Idol for blond hair with highlight, dyed blonds or natural blonds.
The Shampoo and Conditioner are intelligent, they deliver great conditioning to dry and brittle ends but don't to roots that tend to have more natural oil when still not bleached.
BBB SPAY Great Leave in conditioner.
Conditioner with a touch of color, gold for warmer blonds and silver for the cool ones. These intelligent conditioners deliver te perfect mix of color corrector and conditioner you need at that moment. The dial on the bottle will help you deliver the exact mix you need. This is the most advances system on the market ever.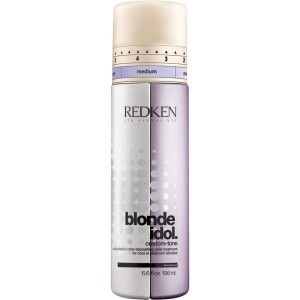 Blond Idol Mask Deep treatment to combate the oxidisation of blond in the environment. Your hair won't look "all washed out".
Color Extend for colored hair
This great newly reformed series is now sulphate free and with ion technology that makes you color stay with you for longer!
Shampoo and conditioner, Radiant Serum to seal, condition and protect your hair and color and Deep Attraction treatment for that once a week replenisher.
Only dry hair will go green in the swimming pool. If your hair has a little green tone to it when you have been the the pool you can treat it with ketchup. leave in for half and hour and wash and deep treat your hair. You can avoid it going green by replenishing your hair regularly. Use a little deep conditioner and one of the Redken serums to prevent the pool chemicals in saturating your and and you won't have that problem. 😉
Color Extend Sun For life under the sun
This series is also great for your kids summertime or on sunny destinations!
Curvaceous specially made for naturally curly hair
This product will give the spring back to your hair. It is specially formulated to combat auto dryness and frizz.
Full Swing -give your cups a little weight and conditions.
Ringlet -gives your curls separation and control.
Wave Ahead -texture, beach effect, dirty but clean…
Wind Up -gives lazy curls more groove.
Smooth Lock for dry and frizzy hair
This great formula with almond oil really helps combat frizz and dryness.
Stay sleek is a good leave in alternative and the Butter Silk deep treatment really replenishes humidity in the hair shaft.
The best treatment for you hair is TLC -tender loving care. Nourish your hair and take care of it. Brush with care, hold the roots oaf a small part of your hair and start in the very ends, work you way up the shaft. After washing, wrap your hair up in a towel and gently squeeze the water out. Apply serum to your hands, warm it up by frothing, apply from the hight of your ears and down, brush as earlier described.
Real Control for naturally thick curly unruly hair.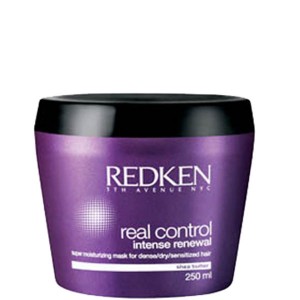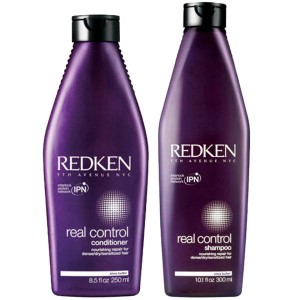 This formula with Seabutter is by far the most moisturising series from redken.
Always wash your hair twice, once with the amount of 10 cents, just a drop. It won't foam but it will break the oil sheen in your hair and prepare it for washing. Rinse and apply a slightly larger amount of shampoo, now it will foam abundantly. Rinse well, apply a small amount of  conditioner, comb though your hair to distribute and rinse well. You will find your investment in Redken products will give you a surprisingly long time of great haircare from you bottles and wonderful hair for less than the cost of your supermarket shampoo.
Mens series
Go Clean -for everyday use of normal hair, smells like Armani.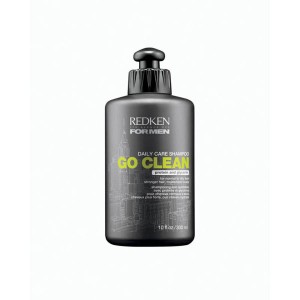 Clean Spice -two in one with conditioner, spice fragrance.
Full Impact -volumizing shampoo.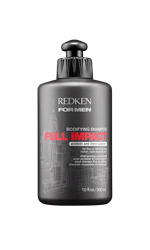 Mint Clean -Cooling effect shampoo, great in the heat of summer!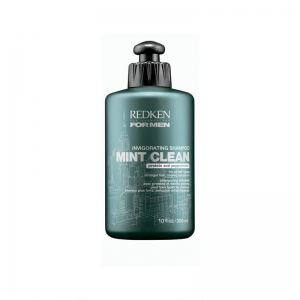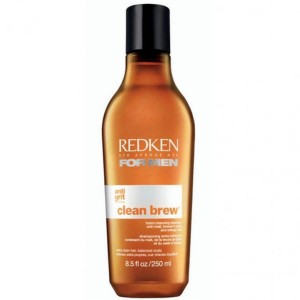 Clean Brew -Bear based formula for oily/dirty hair and scalp.
Silver Charge -for naturally gray hair, to combat oxidisation and keep you looking sharp.