This is officially the most glamorous time of the year. 
It´s time to deck the halls with balls of GLITTER
It`s time to go SHOPPING
It´s time to get READY
It´s time to go PARTY, PARTY, PARTY!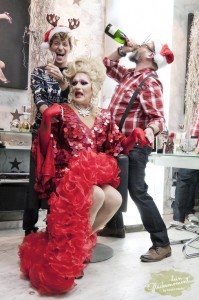 Christmas is in the heart, make your own traditions.
Personally I don´t like gifts unless they are perishable.

That means they have either to be: drinkable, edible, smellable, expendable or rot.
It´s great to get gifts but the real pleasure is to give. To see someones face and to receive a thank you. There is nothing better than that.
Please think of the less fortunate when celebrating, a call, a smile, a contribution goes a long way, especially to someone who is not asking. 
Giving somebody special a Redken product, or a salon treatment
is a deferent way of saying "I love you, I wish you the best".
If you don´t know what to give to that special someone, why not get a gift card from us? We will give you a 25% discount on any treatment at the salon and a 15% discount on any product.
From Tom and the very glamorous Lady P., Francisco, Sandra the photographer and myself, WE wish YOU a very Merry Christmas and Happy Holidays from our little salon under the sun. 
So go on and decorate your tree of life and spread the love. <3 <3 <3